Originally published at Juliet E. McKenna. Please leave any comments there.
Following my last post, I'm indebted to Kevin Beynon for directing my attention to the finalists in this year's Self-Published Fantasy Blog-Off – an admirable initiative from best-selling epic fantasy author Mark Lawrence, which aspiring writers and fantasy fans alike should definitely take a look at.
At the start of this year's competition, Mark invited self-published fantasy authors to submit their books which were then divided randomly among ten established and well-regarded book bloggers/review sites. Each blogger read those submissions with an experienced and critical eye – the sort of consideration any literary agent or editor will give a hopeful new story. They've now put forward their favourite for the final. All the bloggers will now read all the books and score them out of ten, generating a cumulative score to determine the overall winner.
Here's the first thing that's significant for the current gender in genre discussion. This year's finalists are five men and five women. What does this tell us? As far as I am concerned, it indicates yet again that when a playing field is level, as far as writing is concerned, gender bias pretty much evaporates.
I've seen this in several writing competitions now, where I've judged short stories blind – which is to say, all the entries were reformatted and sent to me without any names or indicators of the author's gender. Every time, when it comes to picking a shortlist, once the winners have been chosen and the curtain is drawn back, that selection proves to be evenly balanced for gender. I've found exactly the same in writing competitions I've played no part in.
It also reminds me of one key finding when I analysed Waterstones' promotional emails for signs of gender bias. In the 'Staff Picks' and 'What We're Reading' sections where recommendations came from booksellers and customers based on what they'd enjoyed reading, those choices were 53% male, 47% female.
When the only thing that counts is what readers make of the writing, the story really is all that matters.
The second thing I'm seeing here? Out of three hundred SPFBO submissions this year, the field was 49% male, 33% female and 18 unknown as they were using initials. Can we assume those initials all belong to women? I'd say that's a risky assumption – and even if that were the case, that still means only a third of the books were written by women prepared to raise a hand to be identified as such. What does that tell us?
Once again, it confirms something I've seen time and again since I started writing about inequalities in visibility in SF&F. Something I've had confirmed as an endemic problem in fields such as medicine, science, computing, literary criticism, history and the law. Women are still culturally conditioned to put themselves forward much less and to hold their own work to a far higher standard before offering it for publication. It's a problem that frustrates and infuriates editors, from those working on academic journals, through fiction anthologies in all genres, to the commissioning editors in publishing houses. With the best will in the world, the best initiatives to improve diversity and representation can only work if those who've been historically excluded now step forward.
Which means those who've been historically excluded need to feel they can step forward. That they can raise a hand without it getting slapped down. That their work will be judged on its merits and nothing else. Which absolutely doesn't mean initiatives that offer patronising, special treatment or give anyone a pass for substandard work. That merely entrenches the idea that these people cannot make the grade unless the standard is lowered to accommodate them. That's as counter-productive as it is insulting.
So this brings us back to that level playing field. How do we achieve it? How about taking that idea of no special treatment one step further? Let's stop giving one privileged group the lion's share of promotion and publicity. Review coverage, promotion through social media, recommendations, citations and award nominations, anthology selections and more besides, remain stubbornly skewed in favour of white male writers. They get roughly two-thirds of the publicity that's so vital for the word-of-mouth popularity which sustains a writer's career. Everyone else gets to share the third that remains.
When the vast majority of white male writers working today never sought such favouritism. They find the dead hand of cultural inertia and institutional racism/sexism as problematic as anyone else. Not least for themselves. They don't want to win awards for writing the best SF/Fantasy/Horror book from a westernised white male. They want to win for writing the best book in that field from anyone! That old saying that a woman has to be twice as good as a man to get half the recognition? It has a flipside. Winning a competition that's rigged so you can do half the work for twice as much reward as the opposition? Is that prize really worth having?
We have a long way to go. Everyone needs to play their part. Readers and writers alike will benefit and that can only be good for our genre.
Meantime, this particular competition's outcome is an encouraging sign of progress for me.
Originally published at Juliet E. McKenna. Please leave any comments there.
Two things happened on Monday 24th October. News of Sheri S Tepper's death spread – and a lot of people on social media wondered why isn't her brilliant, innovative and challenging science fiction and fantasy writing better known?
Then the BBC broadcast the second episode of Andrew Marr's series on popular fiction, looking at epic fantasy.
The programme featured discussion of the work of seven, perhaps eight, major writers – six men and one, perhaps two women if you include the very passing reference to J K Rowling .
Four male writers were interviewed and one woman. Please note that the woman was interviewed solely in the context of fantasy written for children.
If you total up all the writers included, adding in cover shots or single-sentence name checks, eleven men get a look-in, compared to six women. Of those women, three got no more than a name check and one got no more than a screenshot of a single book.
It was an interesting programme, if simplistic in its view, to my mind. There's a lot of fantasy written nowadays that goes beyond the old Hero's Journey template. There's a great deal to the genre today that isn't the male-dominated grimdarkery which this programme implied is currently the be-all and end-all of the genre.
But of course, I can hear the justifications already. A general interest programme like this one isn't for the dedicated fans, still less working writers like me. For mass appeal it must feature authors whom people outside genre circles have heard of, and whose books they'll see in the shops. If these books just happen to be mostly written by men, well, that's just the way it is.
Am I saying these aren't good books which have a well-deserved place in the genre's origins and evolution? No, of course I'm not. All these featured and interviewed writers are deservedly popular, their books widely read, and their work is illustrative of points well worth making about fantasy.
But those same points could have been made just as effectively while featuring a more balanced selection of writers, from the genre's origins to the present day. So what if that means including less familiar names? Do you honestly think readers interested enough to watch a programme like this will object to discovering a new author to enjoy?
When such a programme has a marked gender skew, it matters. This selection guarantees these are the books that'll get a sales boost from this high-level exposure. So when the next programme maker comes along to see what's popular, maybe with a view to a dramatisation or to feature in a documentary, he'll see that same male-dominated landscape. So that's the selection of books that will get the next chance of mainstream exposure. Thus the self-fulfilling prophecy of promoting what sells, thereby guaranteeing that's what sells best, continues to entrench gender bias.
If you're wondering how the work of writers like Sheri S Tepper and so many other ground-breaking women writers is so persistently overlooked, you need look no further than programmes likes this.
(For more – lots more – on equality issues within SF&F, click here)
Originally published at Juliet E. McKenna. You can comment here or there.
As the news of Bob Dylan's Nobel Prize for Literature has gone racing round the world, to a wide range of reactions (to say the very least!) my response has been perhaps a little different to most.
Because I remembered writing this, back in 2012, when I wrote an appreciation of Anne McCaffrey's 'The Ship Who Sang' for SFX magazine's Book Club column.
While some detail now seems dated, notably reverence for Bob Dylan to equal Shakespeare, …
Shows how much I know 🙂
The specific story where Dylan's music plays a vital role is 'The Ship Who Killed', first published in 1966. Helva, the brainship, is partnered with Kira, a practising 'Dylanist'. What's that? Kira explains:
'A Dylanist is a social commentator, a protestor, using music as a weapon, a stimulus. A skilled Dylanist … can make so compelling an argument with melody and words that what he wants to say becomes insinuated into the subconscious
A really talented Dylan stylist … can create a melody with a message that everyone sings or hums, whistles or drums, in spite of himself. Why, you can even wake up in the morning with a good Dylan-styled song singing in your head. You can imagine how effective that is when you're proselytising for a cause."
For those who might like to read the whole piece, I've added it to my reviews page. Hopefully I can find time to add a few more recent reads there sometime!
Here's an Amazon link to tell you a bit more about the book, always remembering you can buy it from any other retailer online – or why not visit your local bookshop?
Originally published at Juliet E. McKenna. Please leave any comments there.
Parliament's back in Westminster today, and over the weekend, the media were reporting a cross-party initiative to insist on a House of Commons vote over leaving the single market, as well as high-level Conservative unease at how badly the general public, and the heavy-weight business organisations, responded to the Tory conference's Hard Brexit and isolationist rhetoric.
The energy the Pro-Leave press are putting into rubbishing all this, turning their sneers on whoever they think is involved, and insisting it's all a done deal anyway, makes me pay even closer attention. Because this is not a done deal. This was not a quiet revolution or an overwhelming mandate or anything remotely like it, and there are serious challenges going through the courts as we speak.
So now's the time to have hundreds, thousands, ideally tens of thousands of letters landing on MPs desks and making the majority opposition to this unfolding disaster undeniable. They need to be hard copy letters, because MPs have a legal obligation to record and reply to those, unlike email which can and will be ignored. Individual letters, because anything that looks like cut-and-paste can and will be downgraded as not a serious expression of personal belief.
The time and effort which handling a large volume of letters demands of your MP's office and staff is one of the most effective tools we have as constituents. It really gets attention.
It only needs to be a single page and no more than two at the most, even if like so many of us you could write a 10,000 word essay on the calamitous consequences of this botched referendum. Pick three, maybe a handful of the points that matter most to you. It's not as if there's a shortage.
If the bare-faced lies of the Leave campaign infuriate you, say so. Where's that £350 million for the NHS?
If the utter lack of democratic safeguards when voting on such a vital issue appals you, say so. Where's the legitimacy of 37% of the eligible electorate overruling the rest?
If the catastrophic impact that this has already had, and will have, on the economy and the tumbling Pound dismays you, say so.
If your own and your family's employment prospects have and will be significantly harmed, say so. If for instance, you're one of the 800,000 people whose jobs rely on motor manufacturing – or if you work in any of the many other globalised industries that can and will swiftly relocate when the UK is no longer an entry point to the Single Market.
If the price rises for day-to-day essentials that will go with a sinking pound and higher dollar costs for fuel will hit your household budget hard, say so.
If the Brexit Ministers insisting they can dictate terms to Europe enrages you, when the representatives of the 27 nations who will decide such things keep saying the exact opposite? Say so.
If the conspicuous lack of coherent policies from any of the Brexit Ministers irritates you, say so. Ask how exactly they intend to deliver closed borders without cutting the UK economy off from the Single Market?
If the lack of proper Parliamentary scrutiny of such far-reaching changes dismays you, say so.
If the way your MP behaves over this will influence your vote at the next general election, say so.
If you're active in local party politics, whatever your party, and consider this a reselection litmus test, say so.
If your MP is one of those already opposing Brexit, assure them of your support, irrespective of party affiliation.
If you've had direct experience of, or have observed, the uptick in racist, xenophobic and other bigoted behaviour enabled by this result, spell that out.
I could go on – and on – but you get the idea. So get writing.
Don't get aggressive. Don't get abusive. Don't give anyone any excuse to dismiss your letter as anything less than a valid expression of your opposition to this social, economic and political catastrophe.
If you get a mealy-mouthed, formulaic reply, write back and say that's unacceptable. Outline a few more reasons why. Like I said, there's no shortage.
If we want to take back control of our democracy, this is the time to speak up and be heard.
Originally published at Juliet E. McKenna. You can comment here or there.
For this new project, I took heed of the key lesson about maps which I learned when writing The Tales of Einarinn. Back then, I had a map quite literally scribbled on the back of an envelope as I wrote The Thief's Gamble. Oh, I took considerable care calculating distances and travel times and all the variables that might affect such things. That sketch map was soon covered in notes and arrows and other hieroglyphs.
And then… my editor wanted a map to go in the actual book… Fortunately my husband trained as a design draughtsman and was able to reverse engineer a map from the final text. He then went away and drew a master map on actual draughting film as well as creating a digital version. Thereafter I could work from and update those.
This time round, I drew a far more careful map in the first place, as I developed the River Kingdom concept. Once we started planning the Shadow Histories collection, and being very well aware of my own artistic shortcomings, sought out a trained illustrator who could translate my efforts into something worth having.
Enter Sophie E. Tallis whose professional qualifications and experience are matched by her focus on getting a project exactly right. I thought I'd sent a comprehensive brief until she started asking questions! How high are the peaks in the hill country exactly? Which towns have ferries for crossing the river? Where exactly do those various roads go, because if there's a road, there must be a destination. No one establishes a trade route unless they know there's something worth having at the other end. And now, let's talk colour samples and fonts and any number of other things that would never occur to me since I lack that sort of visual imagination. It really has been a fascinating process, and Sophie's been a pleasure to work with. Also very patient whenever I've had to start an email with 'ah, did I forget to mention such-and-such? It rather looks as though I did…'
The end result is this fabulous map. And there are a good few potential beginnings here as well. Sophie's added in some lovely details here and there which are just crying out to have a story written around them… Well, that's fun for another day. For now, enjoy this map, and you may also be interested in further details about the River Kingdom to be found here. Meantime I'm thinking about the best way to make an embroidery of that wonderful compass rose. Crewel work or cross-stitch? Hmmm…
Click on this map to go through to the larger version where you can zoom in for still more detail.
You'll notice the watermark there to protect Sophie's copyright. In due course we'll have details of how to get prints etc.
Originally published at Juliet E. McKenna. You can comment here or there.
Click on over to Far Fetched Fables (one of the District of Wonders' enterprises) and you will find an audio version of my story 'She Who Thinks For Herself'.
I wrote this for the 'Resurrection Engines' anthology, back in 2012, alongside a slew of fine writers well worth reading. We were all invited to take on a classic of Victorian literature and find some new and specifically steampunk twist.
I chose H Rider Haggard as I recall reading his books avidly in my early teens, along with Edgar Rice Burroughs, H G Wells and other such classics found in a traditional girls' grammar school library. I have always believed that our current speculative fiction tradition is rooted in these first mass-market, popular novels of the late Victorian and Edwardian era, written before genre boundaries and definitions became established.
Re-reading H Rider Haggard's 'She' was an eye-opening experience. Naturally I was expecting to find outdated attitudes to race and gender and the influence of the Victorian 'Great Man' theories of history and society. Yes, indeed, I found them to a startling extent. I didn't recall such things striking me so forcefully on first reading. In some ways, that's reassuring. My world view doesn't seem to have been warped as a result. On the other hand, this really does show the necessity of being alert to the differences between then and now, when revisiting the roots of our genre for inspiration.
Thankfully, there was already radical thought challenging such Imperial certainty, and growing impetus for reform in the late 19th Century, driven onward by men and women alike. There was a wealth of material for me to draw on, ensuring that 'She Who Thinks For Herself' is firmly rooted in historically accurate societal and technological movements of the time.
You'll find this story alongside "Papagena" by Jay lake and Ruth Nestvold, so that's another treat you have in store. Enjoy!
This is the very first piece of my fiction to be available in audio format. That sounds incredible, doesn't it? Well, bear in mind that my first series came out when audio books were still being shipped as CDs and even audio cassettes. Yes, really… So only the very top-sellers got that treatment.
How things have changed, now that digital downloads are so quick and easy. Does that mean my books might get an audio release? Well, I have control over all those rights and would be happy to discuss such a project, so if you're a fan of audio books, feel free to get in touch with your preferred provider and suggest they email me… 🙂
Originally published at Juliet E. McKenna. Please leave any comments there.
Bristolcon is a splendid one-day, regional SF&F convention in, unsuprisingly, Bristol. This year it's on Saturday October 29th, at the Doubletree Hotel, which is convenient for travel by car or by train – within easy walking distance of Bristol Temple Meads station. Membership is £25 in advance or £30 on the door.
This year's Guests of Honour are the artist Fangorn, and authors Ken MacLeod and Sarah Pinborough.
The full programme can be found here – click on through. Always bearing in mind that this is a month away and such plans are potentially subject to change.
My panels look very promising.
17.00 – Running the World / Cleaning the Toilets – One person's utopia is another's dystopia. How can we build believable and effective governments in SF&F, and how can we prevent our utopias becoming dystopias (and should we try)? And while we're focussed on the action at the top, who's cleaning the toilets?
Ken MacLeod (M), John Baverstock, Ian Millsted, Juliet E McKenna, Jaine Fenn
18.00 – After the Heroes Have Gone – We all enjoy a big battle, especially on the big screen, but what happens afterwards? Who's picking up the pieces of New York after the Avengers have smashed it up, who's living in the wreckage of a Godzilla-stomped Tokyo and what are the Alderaanians who were off planet at the time supposed to do next? Wars have knock-on effects that aren't always explored – we ask our panel to think about the fate of the ordinary folk, after the heroes have gone.:
Danie Ware (M), Joel Cornah, Juliet E McKenna, Chris Baker, R B Watkinson
And most exciting of all,and with thanks as ever to the wonderful Wizard's Tower Press, we'll be launching Shadow Histories of the River Kingdom that weekend! since this will be both an ebook and a print-on-demand publication, there'll be copies on sale which I'll naturally be happy to sign 🙂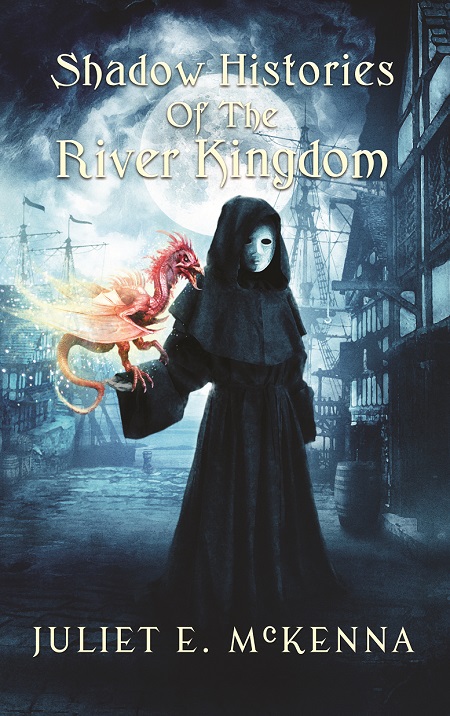 Artwork & layout by Ben Baldwin
Originally published at Juliet E. McKenna. You can comment here or there.
Excellent news – the ZNB Kickstarter to fund these three new anthologies has reached its funding target! Here's what our lovely backers will be reading –
SUBMERGED is to feature science fiction or fantasy stories that are set underwater at some point. It does not have to be set completely underwater, but at some point the events of the story must lead in a natural way to an underwater adventure. There should be a significant reason for why the action must take place underwater; this should NOT be a story where it easily be rewritten on land and maintain its cohesion. We are attempting to fill half of the anthology with science fiction stories, and half with fantasy stories. Stories featuring more interesting settings underwater and twists on the typical underwater themes will receive more attention than those that use standard underwater tropes. In other words, we don't want to see 100 stories dealing with Atlantis. If we do, it's likely that only one, at most, would be selected for the anthology. So be creative, choose something different, and use it in an unusual and unexpected way. We are looking for a range of tones, from humorous all the way up to dark.

ALL HAIL OUR ROBOT CONQUERORS! is to feature stories where the robots of the story somehow harken back to the 50s/60s style of robots. The story can be set in the far future, but at some point there should be a significant nod toward the robots from that era—either a significantly advanced robot that is simply housed in a 50s/60s style shell, or a robot exactly like those from the 50s/60s but used in an interesting and believable way in the story. Stories featuring more interesting takes on the 50s/60s style robots, and twists on how they are integrated into the story, will receive more attention than those with more generalized robots. So be creative and use your robot in an unusual and unexpected way. We are looking for a range of tones, from humorous all the way up to dark.

THE DEATH OF ALL THINGS is to feature stories where Death is a character in the story. The version of Death used should be unique, so consider all different types of versions of Death seen throughout history and in different cultures. Stories featuring more interesting takes on Death, and twists on how Death is integrated into the story, will receive more attention than those with more standard depictions of Death. So be creative and use Death in an unusual and unexpected way. We are looking for a range of tones, from humorous all the way up to dark.
Now, as I've mentioned before, one reason why I enjoy being part of these projects is each ZNB anthology offers open submission slots. This really is a great chance for aspiring writers to be involved in a thoroughly professional publication.
So while I get on with firming up my ideas for a 'Death of All Things' story, have you got a tale ready to be told, or even just the see of an idea for one or more of these themes? Get thinking and writing!
Always remembering to read the Submission Guidelines in full – click here.
Originally published at Juliet E. McKenna. You can comment here or there.
A #HoldOnToTheLight post

The best fantasy is always rooted in reality and often it's exploring harsh reality. A hundred years ago, a young officer invalided home from World War One began writing the poems and myths that would lead on to The Lord of the Rings. Tolkien wrote from his own experiences amid predominately male colleagues, struggling against brutal forces threatening to end the way of life that he cherished. His work reflects that – among other things. In the decades that have followed, the best fantasy fiction has continued such exploration and has expanded to encompass so much more.
Successive writers have considered the challenges faced by those marginalised through prejudice towards gender or race, and by those struggling with physical infirmity without sympathy or support – alongside eternal battles between Dark and Light and other classic themes. Where these stories are most readable and most memorable, their authors have avoided the pitfalls of worthy moralizing by making these challenges intrinsic to the narrative they're creating. Nowadays increasing numbers of diverse voices across SF&F draw on their personal experience to give such stories ever more realistic depth and complexity.
So what about mental health? Because that's part of our reality. Not just for writers by the way, or artists or musicians or anyone else creative. This idea that we must 'suffer for our art' or that there's some mystical inspiration to be found in depression or anything else is one of the biggest myths out there. Along with all the authors I know, I'm at my most creative and inspired when I'm relaxed and content with my life. Just like everyone else.
Challenges to everybody's peace of mind are constant and recurrent and surely that's going to be same for fully rounded characters in fantasy fiction? How does a writer tackle this? By drawing on our own experience? This is where it gets tricky and not just because there's still such stigma attached to admitting to depression or some other mental health condition, not least for fear that will be wholly and only how people will define you ever afterwards.
I've had two significant episodes of clinical depression in my life, requiring medication, therapy and support from qualified professionals. Thankfully that's decades behind me now but from a writerly point of view, drawing on that experience would be problematic. Not for fear of giving away too much about myself, but because I clearly remember how being depressed is so horribly tedious. It's dull, it's monotonous, it's never-ending (or so it seems at the time). It's such wretchedly hard work to just get through a day and the only reward is another unutterably wearisome day exactly like it. All those metaphors about being weighed down with burdens, about struggling through a morass? Bunyan's Slough of Despond? They're classics because they're so true.
None of which will make for fun reading, certainly in a major point of view character. Spending an entire morning summoning up the mental fortitude to leave the house to buy a pint of milk isn't really the stuff of high heroics and thrilling adventure. So how do we square this circle of accurately reflecting life in all its aspects, good and bad, without writing a dismal story that sinks under waves of gloom?
Well, there's including a significant character in the overall ensemble who's got through depression and come out the other side. I have travelled that road twice after all, thanks to the help I received. That enabled me to identify the causes of my depression, both those specific to, and different for, each episode and the more deep-rooted, underlying issues common to both. More than that, I learned to spot early warning signs; to realise when I might be going down those same paths again. The mental wellness toolkit I've assembled as a result has enabled me to steer clear of the worst ever since.
That's all well and good from a writing point of view and could potentially make for an interesting character arc, as long as it was unobtrusively integrated into the story. Done badly, it could be clumsy tokenism. It would also be horribly easy for writing that character to tip over into seemingly saying 'See? If you can just pull yourself together, everything will be fine!' Hearing that advice, however honestly well-meant, is one of the few things that can goad a depressed person to exhausted fury. That's just not how it works. I remember that vividly too.
So what do we do, as writers? Give up, because it's too difficult? But isn't being a writer all about tackling the difficult stuff through fiction, in order to make sense of real life's challenges? And representation matters, as we see proved time and time again, as SF&F moves however slowly and imperfectly towards a more genuine reflection of modern life, with all our variations of gender, race and physical capability. Don't those facing the unseen challenges of mental health issues deserve to see their reality reflected too?
So let's take a second look at those ways in which SF&F has developed beyond the "great deeds of great white men" point of view. Let's look at successful examples of representation in fiction for women, for people of colour and so many more. These are invariably the characters for whom those issues are merely one facet of their lives and personalities. Yes, these things inform their choices, their relationships and thus, influence their role in a story, but these characters are never solely or wholly defined by that one overarching trait. Just like, y'know, real people.
So let's write characters experiencing ups and downs in their mental health as honestly as we can. Let's have them alongside people with chronic physical conditions, or recurrently disastrous love-lives, or dealing with something else entirely, not as tick-box tokens but as part of the gamut of believable people playing their part in our stories. Let's write these characters with friends and support that can help them with their struggles, because that's how things happen in real life. Let's not sugar-coat their difficulties or underplay those challenges, because that's real life as well. Progress towards mental wellness is so often very hard-won, and with setbacks along the way. Let's never forget to do our due diligence and research, where we're writing outside our own experience.
Then just maybe someone trying to understand the plight of a friend with depression will gain some helpful understanding. Maybe someone in the midst of those throes will see a glimmer of unforeseen light in that particular reflection of the darkness they know so well.
Is this the answer? Well, it's one answer. I'm working my way through such questions and this is where I've got to thus far. No, it's not easy to find constructive ways forward but I intend to keep trying, as well staying open to other people's comments and suggestions. Because I know that's what will make me a better writer.
About the campaign:
#HoldOnToTheLight is a blog campaign encompassing blog posts by fantasy and science fiction authors around the world in an effort to raise awareness around treatment for depression, suicide prevention, domestic violence intervention, PTSD initiatives, bullying prevention and other mental health-related issues. We believe fandom should be supportive, welcoming and inclusive, in the long tradition of fandom taking care of its own. We encourage readers and fans to seek the help they or their loved ones need without shame or embarrassment.
Please consider donating to or volunteering for organizations dedicated to treatment and prevention such as: American Foundation for Suicide Prevention, Hope for the Warriors (PTSD), National Alliance on Mental Illness (NAMI), Canadian Mental Health Association, MIND (UK), SANE (UK), BeyondBlue (Australia), To Write Love On Her Arms (TWLOHA) and the National Suicide Prevention Hotline.
To find out more about #HoldOnToTheLight, find a list of participating authors and blog posts, or reach a media contact, go to http://www.HoldOnToTheLight.com and join us on Facebook https://www.facebook.com/WeHoldOnToTheLight
Originally published at Juliet E. McKenna. You can comment here or there.
Take a glance at the new Aldabreshin Compass covers and you'll see why Ben Baldwin was the artist I wanted for this new book's cover. Not because I wanted something just like those, far from it. Because I was confident that he could find the best way to give these stories and this entirely new fantasy setting their own distinctive visual character. If you're not already aware of Ben's versatility as an artist, do make time go and browse his website.
It really is a fascinating process for me as someone who's always been very focused on words; handing over my writing to someone whose imagination and skills work in a completely different creative area. Trying to explain the sort of thing that I'm after, when I cannot actually visualise it myself, answering an artist's questions as best I can – without being distracted by wanting to ask 'Why choose that particular episode or character to illustrate?'.
Then there's seeing the draft sketches and having discussions about detail, which invariably sees me hunting for the photos and other visual references I've used in the writing. Finally there's the thrill of getting something that's both utterly surprising that also makes me nod and think, 'yes, that's it.'
Not that that's the end of the process. Ben's done all the cover layout and other design work here. And that's not the end of it either. You remember I said I use visual references as I write? Pictures so often stir my imagination. I'm already seeing prompts for new stories in this one…
So here it is for you to admire. You'll get your chance to read all these stories and to discover exactly what inspired Ben soon!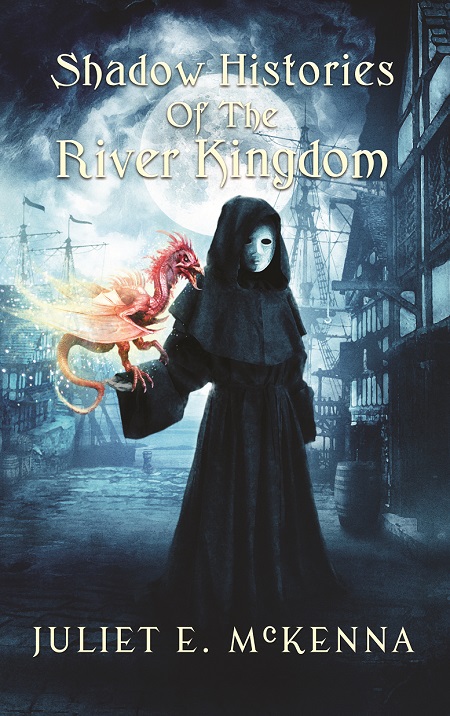 Artwork & layout by Ben Baldwin