Originally published at Juliet E. McKenna. You can comment here or there.
Take a glance at the new Aldabreshin Compass covers and you'll see why Ben Baldwin was the artist I wanted for this new book's cover. Not because I wanted something just like those, far from it. Because I was confident that he could find the best way to give these stories and this entirely new fantasy setting their own distinctive visual character. If you're not already aware of Ben's versatility as an artist, do make time go and browse his website.
It really is a fascinating process for me as someone who's always been very focused on words; handing over my writing to someone whose imagination and skills work in a completely different creative area. Trying to explain the sort of thing that I'm after, when I cannot actually visualise it myself, answering an artist's questions as best I can – without being distracted by wanting to ask 'Why choose that particular episode or character to illustrate?'.
Then there's seeing the draft sketches and having discussions about detail, which invariably sees me hunting for the photos and other visual references I've used in the writing. Finally there's the thrill of getting something that's both utterly surprising that also makes me nod and think, 'yes, that's it.'
Not that that's the end of the process. Ben's done all the cover layout and other design work here. And that's not the end of it either. You remember I said I use visual references as I write? Pictures so often stir my imagination. I'm already seeing prompts for new stories in this one…
So here it is for you to admire. You'll get your chance to read all these stories and to discover exactly what inspired Ben soon!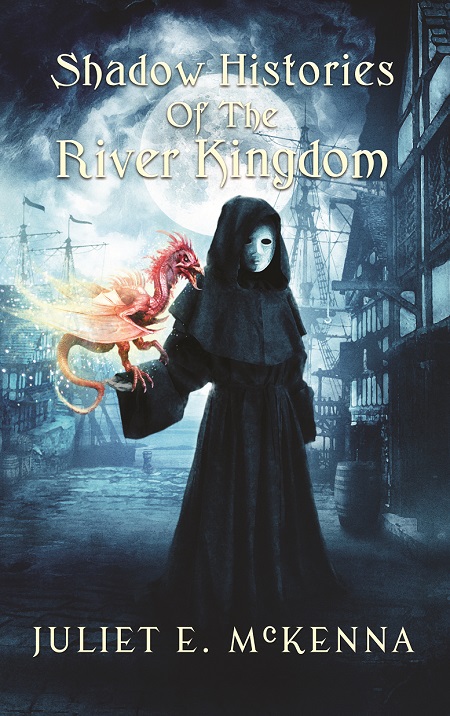 Artwork & layout by Ben Baldwin
Originally published at Juliet E. McKenna. Please leave any comments there.
This weekend saw assorted awards presented here in the UK, as part of Fantasycon by the Sea, in Scarborough.
The David Gemmell Awards for Fantasy –
RAVENHEART AWARD (Best cover art)
Jason Chan for The Liar's Key by Mark Lawrence
MORNINGSTAR AWARD (Best debut)
The Vagrant by Peter Newman
LEGEND AWARD (Best novel)
The Liar's Key by Mark Lawrence
The British Fantasy Society Awards –
Best anthology: The Doll Collection, ed. Ellen Datlow (Tor Books)
Best artist: Julie Dillon
Best collection: Ghost Summer: Stories, Tananarive Due (Prime Books)
Best comic/graphic novel: Bitch Planet, Kelly Sue DeConnick, Valentine De Landro, Robert Wilson IV and Cris Peter (Image Comics) (#2–5)
Best fantasy novel (the Robert Holdstock Award): Uprooted, Naomi Novik (Macmillan)
Best film/television production: Jonathan Strange & Mr Norrell, Peter Harness (BBC One)
Best horror novel (the August Derleth Award): Rawblood, Catriona Ward (Weidenfeld & Nicolson)
Best independent press: Angry Robot (Marc Gascoigne)
Best magazine/periodical: Beneath Ceaseless Skies, ed. Scott H. Andrews (Firkin Press)
Best newcomer (the Sydney J. Bounds Award): Zen Cho, for Sorcerer to the Crown (Macmillan)
Best non-fiction: Letters to Tiptree, ed. Alexandra Pierce and Alisa Krasnostein (Twelfth Planet Press)
Best novella: The Pauper Prince and the Eucalyptus Jinn, Usman T. Malik (Tor.com)
Best short fiction: Fabulous Beasts, Priya Sharma (Tor.com)
The Special Award (the Karl Edward Wagner Award): The FantasyCon redshirts, past and present
Something for everyone there, I'd say!
And apropos Zen Cho's win for the excellent 'Sorcerer to the Crown', you can find my review of it here
You can find her guest post reflecting on life as a debut novelist here.
Originally published at Juliet E. McKenna. Please leave any comments there.
The advent of ebooks has made all sorts of differences to the publishing landscape. The resurgence of shorter form fiction is merely one example. Now we're seeing standalone stories about our favourite characters. We're seeing writers gathering up short stories they've written for widely scattered publications and issuing them as collections (like my River Kingdom stories). We're seeing authors getting together to write stories around a common theme – with some uncommonly good results, as seen in 'Alien Artifacts'. Readers can now enjoy all these different approaches via their phones and tablets, as they travel to and from work and/or in other bits and pieces of downtime which don't necessarily suit the next chapter of a novel.
But as with so much in epublishing, just throwing something together and throwing it out there isn't going to win success. There's just as much hard work involved, requiring the application of specific skills, involved in making an anthology which people will read, enjoy and recommend, as there is in epublishing a novel. One key difference is – there's all manner of useful advice out there on how to write a good book. How to put together a decent anthology? Not so much.
Realising this has thankfully prompted Joshua Palmatier to embark on a detailed and illuminating series of posts, drawn from his own experience editing anthologies first for DAW and more recently for ZNBLLC. If you're thinking of doing any sort of collection, this is essential reading. Even if you're not, I'll bet you'll learn something new and useful.
And since we're here, let's check on the latest ZNB Kickstarter – for three intriguing anthologies so far. At the time of writing? $16,899 pledged of the $20,000 goal with 8 days to go.
Close enough to be thrilling. Far enough away to be challenging. I really do want to see these anthologies funded, so if you haven't already checked them out, do go and take a look!
Originally published at Juliet E. McKenna. Please leave any comments there.
Let's have a quick look at the new Kickstarter from ZNB. Okay, doing nicely so far but a fair way to go before the finish line. Do take a look because these anthologies promise a great choice of excellent reading – as well as the opportunity for new writers to submit their work to one or more of three thoroughly professional projects. And there are all sorts of bonus offers and incentives for backers.
What's my incentive? I want to write a story for the 'Death' anthology. How could I not, with my lifelong fascination with myth and legend? It's one of the universals, the book-end to the origin stories which tell us so much about a culture and its world view. Some belief systems have more than one aspect of Death personified. Some are benign, some are neutral while others are malicious. Some are male, some are female, some are animal. Some manifest with multiple aspects.
What about the various guides and guardians of the newly dead? Sometimes you'll get some warning – is that a good thing or not so much? Sometimes who you meet depends on how you died. Got a couple of coins in your pocket for the Ferryman after breathing your last in bed? Or are you hoping that 'the Kindly Ones' will avenge your untimely slaying down some dark alley?
What about all the stories of those who thought they could cheat or mock Death and get away with it? That's merely one aspect of encounters with Death which persists in popular fantasy fiction; in the Discworld most of all but cropping up here and there in TV series as varied as Supernatural and Reaper.
How could I not want to tackle the challenge of finding some new facet of all this to explore, in 'The Death of All Things'?
Just as my fellow authors are keen to dive into the depths of 'Submerged' or get to grips with the nuts and bolts of 'All Hail Our Robot Conquerors'.
Back the Kickstarter and help make all this happen 🙂
Originally published at Juliet E. McKenna. You can comment here or there.
The best writing reflects real life and day to day challenges to mental health are a reality for everyone, to a greater or lesser extent. Through September and October dozens of authors will be blogging about mental wellness, mental illness, depression, suicide prevention, domestic violence intervention, PTSD treatment and related issues.
Gosh, that sounds like a whole load of fun… really?
Don't be fooled. This isn't some worthy gloom-fest. Look at that hashtag #HoldOnToTheLight. This initiative is about illumination, about exploration, about using the power of the Internet for something positive.
Few things are as isolating as the struggle for mental health. This campaign is already highlighting that whatever your particular challenge may be, you are not alone. If you're desperate to help a burdened friend but don't know what to do for the best, see what you can learn from the experiences of those who've already been there and done that, from both sides of the issue.
So check out that hashtag on Twitter. Keep your eyes open on Facebook and other social media. I'll be writing my own post towards the end of this month.
Meantime, here's more from Gail Z Martin about the project.
Originally published at Juliet E. McKenna. You can comment here or there.
We've recently spent a week in the Ardennes, Belgium. Specifically, in a miniscule village about 8 miles outside Bastogne. We rented a ground floor apartment in a barn conversion with thick stone walls, tiled floors and those continental shutters that the sons still insist on calling 'blast doors' after first encountering them at the age of ten or so, when they were really getting into the thrills of SF. So even with outdoor temperatures in the high twenties centigrade, that was a wonderfully cool place to relax, especially after a week spent working in the Netherlands in 35C heat.
Why Bastogne? Well, both Husband and I are interested in history and this area is famous as the arena for the World War Two 'Battle of the Bulge'. We have a particular interest in this as my brother in law is a historical re-enactor with a group honouring the 101st Airborne, The Screaming Eagles, who were besieged in Bastogne by the German counter-attack of December 1944. When the Germans invited them to surrender, the U.S. commanding officer, General McAuliffe sent back the simple reply 'Nuts'. This apparently baffled the Germans comprehensively.
If this is all new to you, I can seriously recommend the TV series 'Band of Brothers' for an overview of post D-Day WWII. If you're already interested in such things, we visited and can very much recommend the Bastogne War Museum at the Mardasson Memorial, the 101st Airborne Museum in Bastogne itself and also the Bastogne Barracks, still a Belgian Army base where the soldiers offer guided tours of what were the U.S. HQ buildings, now with historical displays, along with one of the finest collections of World War Two military vehicles we've seen, including some real rarities.
If you're not interested in such things? If you consider all this to be 'old, unhappy, far-off things and battles long ago,'? I'd still recommend a visit to the area as it offers wonderful opportunities for outdoor pursuits of all kinds; hiking, cycling etc, through a beautiful region. While you're there, you might like visit one of those museums and I think you will find more contemporary relevance than you might imagine. Exploring the rise of fascist nationalism in the 1930s, displays used contemporary documents and sources to highlight the failure of the political establishment as parties in all countries became more interested in internal back-biting and rivalries than tackling the very real, severe economic hardships and social inequalities which ordinary people faced. The demagogues – to the extreme left and the extreme right – offered simple-sounding solutions. They promised to sort everything out, they pointed the finger at easy scapegoats – and no one countered their deceptive narrative.
In the era of Trump and Brexit, that should give us all pause for thought. From the UK perspective in particular, I was struck yet again by how different the European experience of World War Two was from the British one. These museums make plain the impact of the war on the civilian population. There were the posters detailing requirements for the compulsory registration of Jews. Turn up on the appointed day and give all the details of your family, your parents, your grandparents, everyone's dates of birth, addresses etc. – or else. Sabotage and any other resistance activity was strictly forbidden – warning posters specifically included such things as turning up late for work, or not doing your job with sufficient enthusiasm…
I recall my grandmother talking about getting twin babies and a dog down to the air raid shelter night after night on England's south coast. They were in very real danger, as were all my relatives. In Bastogne I saw a video of a woman of much the same age, recalling spending two nights outdoors hiding in a wood in freezing temperatures with her baby. Driven back into the town by hunger and desperation, she was caught in a bombardment and both were injured. Her baby died of his wounds two days later. There are people suffering the same today. The 101st Airborne Museum has an audio-visual presentation in one of the building's cellars. It gives you something of the experience of the townsfolk sheltering in those very cellars as the war raged overhead. Sitting there, with my ears ringing, dazzled by the flashes of light in the darkness and feeling the floor shake beneath my feet, I was forcefully struck by the thought, 'This must be what life is like in Syria now'.
It's not just the museums. I'm used to English village war memorials listing tragic losses through 1914-18 and 1939-45. I wince when I see the same surnames repeated, as families lost successive generations of fathers, sons, brothers, husbands, uncles. In Europe though, as I saw time and again on this trip, these memorials also have lists of 'civilians', 'resistants' or simply 'shot by the Germans'. In some cases those outnumber those who died in the armed forces – in villages of under a hundred houses. No wonder the peaceful co-operation of the European Union (yes, with all its flaws) is so valued across the Channel. No wonder the couple of ordinary people who raised the subject with me were so baffled and politely indignant about the UK Referendum – both the campaign's distortions and lies, and the vote's outcome.
Gosh this all sounds very serious. Yes, such things are, and they matter, and I value these experiences which inform and expand my understanding. We also had plenty of fun as well as relaxing with books, DVDs and computer games according to taste. We had some splendid meals out; the local cuisine is good, hearty, farmland food. The countryside is lovely and the people are friendly and welcoming – and French speaking which was a relief as my Dutch is still really minimal.
We visited the Musee des Celtes and that was well worth the trip. It's small, six rooms over two floors of an old building but with some nice artefacts well displayed, plus a replica Celtic chariot since chariot burials are a notable local feature. Overall it does a sound job of focusing on the specifically Ardennes Celtic populations and archaeology, within the overall context of Celts Europe-wide. That was interesting of itself to us since we're so used to the Celtic focus being Scots/Welsh/Irish. There's stuff to keep children interested, plus a wrap-up display about Celts in popular culture today, featuring Asterix, naturally. An interesting side note was the display on the 19th century Celtic Revival in the context of Belgian nationalism. I think I learned more specifically Belgian history that week than I've ever known before.
The displays and audio visuals are primarily in French but there is a English booklet offered which translates all the display case cards – in some cases rather amusingly. 'The defunct' instead of 'the deceased' raised a grin. Not that this party of three with two non-French speakers is in any position to feel superior, you understand. Overall, through the week, I was pleased/relieved how well my French held up as the family's sole communicator, given I've never been properly fluent and I don't use it overmuch.
By contrast, the Chateau de Bouillon is one of the biggest castles we've visited. It's high on a rocky outcrop – and substantially built into it – dominating one of the river valleys that's been a passage through the Ardennes for Germanic invaders heading west for, well, forever. Consequently this castle's defences have been successively used, refined and updated from 968 to 1944. The views from it, and of it from the town, are spectacular and its long history is fascinating.
It's also the only castle we've visited where dogs are banned specifically because the resident and apparently highly territorial eagles will see them as prey and attack accordingly… There's an impressive collection of birds of prey with excellent daily displays featuring assorted owls and raptors from sparrowhawks to steppe eagles. Unsurprisingly I am now thinking how to integrate the new things I learned about falconry into my next fantasy project…
As promised, here are some pictures.
Originally published at Juliet E. McKenna. You can comment here or there.
This year sees Novacon 46, the UK's longest running regional SF convention and I have the considerable honour of being the Guest of Honour. As programme and other plans are now being finalised, it's safe to say I'm going to have a hugely enjoyable weekend on 11th-13th November, along with everyone else.
But there's still more to this particular honour. Novacon has a tradition of publishing a special, limited and numbered edition of a chapbook by their Guests of Honour each year. So while I was away for the past few weeks, I polished up my own contribution to this series. I've written two stories. One's a fantasy set in the River Kingdom, exploring another facet of this new world I'm currently creating. The other's a science fiction tale, to honour the Birmingham SF Group's fine tradition.
And this is where it get's even better. David A. Hardy is doing the chapbook cover – and what I've seen thus far is awesome. That's not the only reason I'm so thrilled though; as an epic fantasy writer, it never occurred to me that I'd be lucky enough to have him illustrate my words.
I'm a huge admirer of David's work, seen on so many of my favourite SF novels for literally decades – and in so many other places. Just this week, I learned that he did the planetary backgrounds for the second series of Blake's 7! I seriously recommend you find the time for a good long browse of his website. If you're ever at a convention where he's the Artist Guest of Honour, do NOT miss the opportunity to see and hear him explain his working process. Even for non-artists like me, his slideshow and commentary is utterly fascinating.
So what's this particular SF story about? Well, it's another tale set on Titan Lagrange Four, the deep space industrial facility I first visited in my story for 'Eve of War'. I do find space stations fascinating. The notion of an enclosed environment. What happens when a situation prompts 'fight or flight?' The need for multiply redundant and fail-safe systems, because if something goes badly enough wrong, there's a good chance that everyone will die. Except, the people out there can't let things like this prey on their mind or they'd never be able to function. I remember having a fascinating conversation along these lines with a scientist working on North Sea oil rigs, when I was visiting the Aberdeen SF society many years ago… And then there are all the different possibilities for a space station's functions? These aren't the only reasons why Deep Space Nine is my favourite Star Trek series, but it's definitely a factor. The same goes for Babylon 5.
So I'm really looking forward to Novacon. If you fancy joining the fun, you can find out all the details here.
And incidentally, if you've read The Hadrumal Crisis trilogy, you may like to read Helena Bowles' review of the series in the convention Progress Report 2 – downloadable here. She not only gets what I'm aiming for with these books but also highlights relationships between some aspects that I hadn't consciously articulated to myself, if that makes any sense. I do like reviews that show me something new about my own work!
Originally published at Juliet E. McKenna. You can comment here or there.
Following on from yesterday's post about the forthcoming editions of 'Alien Artifacts', I'm really looking forward to writing a story for the next ZNB anthology which I've signed up for.
They're running a Kickstarter for three new anthologies at the moment so there really will be something for every taste. And I'm willing to bet most readers will like everything! Here's what I'll be writing for –
THE DEATH OF ALL THINGS:

Death and taxes: the universal themes. Or, nearly. Not all cultures pay taxes, but all pay the reaper. Acknowledging that nobody will ever beat Sir Terry Pratchett for his depiction of Death, we believe there are more stories to tell, exploring the realm and character of death: tragic, humorous, and all the shades in-between. Edited by Laura Anne Gilman & Kat Richardson, THE DEATH OF ALL THINGS will contain approximately 14 brand-new stories with an average length of 6000 words each. It will include short stories by multi-award winning and NYT-bestselling authors

Stephen Blackmoore,
Aliette de Bodard,
Christie Golden,
Jim C. Hines,
Jason M. Hough,
Faith Hunter,
Juliet E. McKenna,
Fran Wilde.
You've noticed that's not 14 names? That's because the other slots will be filled by the open call for submissions following the successful completion of the Kickstarter. ZNB's commitment to offering new writers a chance is just one of the many reasons I enjoy being part of these projects.
Another is the quality of these books. For instance, the cover art for all three will be commissioned pieces created by Justin Adams of Varia Studios. The cover art for "Submerged" has been completed as you can see from the Kickstarter page. The cover art for the other two anthologies will be completed and revealed at a later date. The official covers for the anthology based off this artwork will be revealed sometime after the end of the Kickstarter.
If you're wondering about those other two titles?
ALL HAIL OUR ROBOT CONQUERORS!:

"Danger, Will Robinson! Danger!" 50s and 60s television shows and movies were replete with clunky robots with bulbous arms and heads, blinking lights, and a staggered, ponderous walk, like Robby the Robot, GORT, and the Daleks. With a touch of nostalgia and a little tongue-in-cheek humor, this anthology will present invasions of robot conquerors—or well-meaning robot companions—rooted in those 50s and 60s ideals of the robotic vision of the future.
SUBMERGED:

From the very earliest days of SFF, when Jules Verne wrote 20,000 Leagues Under the Sea, the depths of the oceans have always intrigued us. Three quarters of our planet teems with creatures beyond our imagining, and terrors we cannot see. Kraken, Leviathan, Cthulu – what other mysteries and monsters lurk in the currents of the wet and dark? SUBMERGED will explore the depths beneath the surface, whether it be on brand new planets yet to be explored, apocalyptic Earths, or fantasy settings from our wildest dreams. So come join us and explore unfathomable trenches, underwater volcanoes, and abyssal plains. Take the plunge . . . into the Deep End!
Click on the link below to find out who's writing for those anthologies. Help us reach the Kickstarter goals and you'll get these books ahead of everyone else, as well as the chance to pick from a great range of backer incentives and other rewards!
Originally published at Juliet E. McKenna. You can comment here or there.
As regular readers will know, I thoroughly enjoy contributing to the themed anthologies edited by Patricia Bray and Joshua Palmatier. So far I've had stories in 'After Hours', 'The Modern Fae's Guide to Surviving Humanity' and 'Temporally Out of Order'. And I don't just enjoy writing for these books. One of the great pleasures of anthologies is seeing what other writers have done with the same theme.
Next up, I have a story titled 'The Sphere' in 'Alien Artifacts'. Kickstarter backers have already had the fun of reading this collection and now the ebook edition can be pre-ordered. The mass-market paperback will follow shortly.
What's this anthology about? Well, here's what the back cover will tell you
What might we run into as we expand beyond Earth and into the stars? As we explore our own solar system and beyond, it seems inevitable that we'll run into aliens … and what they've left behind. Alien artifacts: what might they reveal about us as we try to unlock their secrets? What might they reveal about the universe?

In this anthology, nineteen of today's leading science fiction and fantasy authors explore how discovering long lost relics of alien civilizations might change humanity. Join Walter H. Hunt, Julie Novakova, David Farland, Angela Penrose, S.C. Butler, Gail Z. Martin & Larry N. Martin, Juliet E. McKenna, Sharon Lee & Steve Miller, Andrija Popovic, Jacey Bedford, Sofie Bird, James Van Pelt, Gini Koch, Anthony Lowe, Jennifer Dunne, Coral Moore, Daniel J. Davis, C.S. Friedman, and Seanan McGuire as they discover the stars and the secrets they may hold—both dark and deadly and awe-inspiring.
What's my story about? Well, when an alien scout crashlands on Earth, it brings a whole shipload of things for scientists to try to fathom. Will they solve these vital puzzles before that scout's fellow space-farers turn up to find out what happened?
For those of you who prefer to use Kobo, you can find the ebook here and a quick search will find you all the other anthologies.
And whatever your preference for reading and purchasing, don't forget to check out the other anthologies from ZNB – 'Clockwork Universe: Steampunk vs. Aliens' and 'Were-' for still more excellent reading.
One last note – this is merely the first of various writing updates I'll be posting over the next few days 🙂
Originally published at Juliet E. McKenna. Please leave any comments there.
I spent the past weekend at the annual St Hilda's Mystery and Crime Conference, and as always, came away with a broad range of interesting notes and thought-provoking questions. This year, the papers explored the question of genre: asking just what is crime fiction? So here are just a few things that came up, necessarily in brief.
The conference opens on Friday evening with drinks, a dinner and a guest speaker. This year that was Ted Childs, the TV producer who brought 'Morse' to the small screen. It was fascinating to hear how that all came about, back in the day when ITV was still very much a collection of regional broadcasters. As well as an affectionate and nostalgic reminder of John Thaw's talents, among others, his talk was also a reminder of just how ground-breaking the production was back then; two hour episodes on film rather than video, recruiting writers and directors from stage and movie backgrounds. Without Morse, it's fair to say the TV landscape of today would look very different, and not just for detective dramas.
On Saturday morning, Elly Griffiths looked at the changes in domestic life, particularly domestic interiors from the Regency to the Victorian era when crime fiction first emerged. As her slides showed, the Victorians surrounded themselves with stuff in a way their forebears never had. In this age of uncertainty, as science challenged religious certainty, as new philosophies challenged political certainties, the home became a sanctuary, filled with all this stuff holding emotional resonance and value of its own. Thus invasion of this home, in an age that could feel so threatening, becomes all the more shocking and transgressive? The home itself could become claustrophobic and tyrannical, provoking extreme acts and emotions. There's a lot to think about there.
Jane Finnis proposed various lines to be drawn between fairy tales and crime fiction and not just the restorative justice aspects, though that is certainly important. Consider how many fairy tales involve looking for clues and solving a puzzle. Once you start looking, you can find a lot of fairy tale themes that crime fiction has retold, reinterpreted and developed for the modern, mass-reading audience. Issues of trust, deception and self-reliance. Then there's the formula of 'a long time ago, in a land far far away' which removes the threat, the abominable acts, the violent retribution, to a safe distance while still allowing the reader to see the value of using one's wits and challenging evil. Consider how many people who read mystery fiction really do not like true crime writing and how many writers feel uneasy about drawing too closely on real atrocities and tragedies. 'Far too close to home' is a telling phrase.
This was of particular interest to me given I'm increasingly convinced that folklore and fairy tales are an undervalued precursor to epic fantasy fiction in its current form. Especially when you look back to the original tales as collected by Grimm, Perrault etc, rather than their subsequent sanitised forms. Where, incidentally, female characters can have a lot more agency than later versions allow them, as was remarked on at the weekend.
Conference Guest of Honour Lee Child went even further back. He proposed the thriller as the original fiction that everything else has stemmed from, thanks to its original evolutionary purpose. If you want to know more, you'll be pleased to know that this was livestreamed at the time and you can watch the recording here.
And all that was just Saturday morning! After lunch, Martin Edwards looked at the resurgent interest in and fashionability of Golden Age crime fiction – principally those books published between the World Wars. He's involved in the wonderful British Library Crime Classics now being republished, editing their anthologies and consulting on the series as a whole. A closer look at those writers, their themes and their villains does give the lie to the 'snobbery with violence', 'Downton Malice' interpretation based on partial knowledge of Christie, Sayers, Allingham et al. He drew on a good few parallels with concerns then and those of our own times, most notably distrust and disillusion with politicians and rapacious money men as villains and unsympathetic victims. Carol Westron explored the various 'Rules' for detective fiction that contemporary writers produced back then and once again, closer examination shows that the genre writing of that era was considerably more complex than a glance at these supposed guidelines might suggest. Most of the successful writers broke them wholesale.
Something both speakers touched on was the 'No Chinamen!' dictum of the time, which can and has been held up as a symptom of that era's endemic racism polluting crime fiction. Except… looking at contemporary discussions of that point, a great many more interesting angles arise. 'The Yellow Peril' was the bogeyman of the age, to such an extent that at one point, no fewer than five West End plays in production were blatantly sinophobic, not to mention the on-going hostility and shock-horror stories about 'orientals' in the popular press. Genre commentary at the time warned crime writers off pandering to such ill-judged and unsubstantiated prejudice – and of the dangers of bad writing in doing so – by so lazily seizing on the villain of the moment. The parallels with contemporary islamophobia are striking. Of course, views on race and ethnicity nearly a century ago remain a world away from our own but this is a salutary reminder that the past is a good deal more nuanced than we might be tempted to think.
Further papers looked at the development of various sub-genres within crime and mystery fiction, from past to present. Andrew Taylor looked at historical fiction, while Shona MacLean considered the challenges of writing such books from the professional historian's viewpoint. Kate Charles reviewed the origins and growth of clerical detectives as a niche while Chris Ewan looked at humorous crime fiction. Sarah Weinman reviewed the originators of domestic suspense – because these books were being written decades before the current slew of 'Girl in/on/who' best-seller titles as the 'Troubled Daughters, Twisted Wives' collections make very clear. Lastly but by no means least, Marcia Talley looked at murder least foul – the 'cosy'.
I can't attempt to summarise these papers as they were all wide-ranging and came with copious examples of writers laying the ground work for such varied writing as far back as the 20s and 30s. Many of them were women asking questions of women, which has now somehow been airbrushed out of popular memory. Looking at the ways in which each sub-genre is still reflecting and testing the core tenets of crime fiction, its central themes and archetypes was and will continue to be fascinating for me.
The frequently under-estimated skills required were mentioned more than once. The challenge of making historical characters both of their time and accessible to modern readers is significant. Using humour not to make light of the awful reality of murder but for example, to hold up the corrupt to ridicule alongside grim events, is no easy trick. Similarly there's considerable craft in achieving the necessary suspension of disbelief to make an amateur sleuth work in this day and age without tipping over into the ridiculous. And given the protagonists and primary market for cosy mysteries are mostly women, it's hard not to conclude there's quite some misogyny in the disdain those books so often attract.
Regular readers here will be seeing the echoes and correspondences with ongoing debates within SF&Fantasy that I did. I found many of the same concerns we have about our own genre with regard to retail and publishing trends. This is primarily a conference about the fiction but you won't be surprised to learn I had a few shop-talk conversations with other authors. Publisher mergers and restructuring have caused similar carnage of late, especially among the mid-list. Editorial decisions seem to be driven by marketing and retail assumptions based on highly debatable reasoning about what will or will not sell, with scant consultation of actual readers. Frustrating levels of risk-averseness were mentioned, all infuriatingly familiar.
But I shall try not to dwell on that. Instead, I shall start working my way through the list of authors and titles now added to my To Be Read List. Thanks to the magic of ebooks I can do a bit of that this week and next as I am currently in Holland, thanks to the demands of my Husband's work colliding with our holiday plans and seeing us both head out here a week earlier than our planned trip to the Ardennes. So bear in mind I'm only going to be online intermittently – I'll be very interested in your observations in comments here but won't be replying or answering questions in a particularly timely fashion.
Do raise a hand in comments or somewhere online if you're interested in details of next year's conference. Then I can pass on the information as soon as I get it.